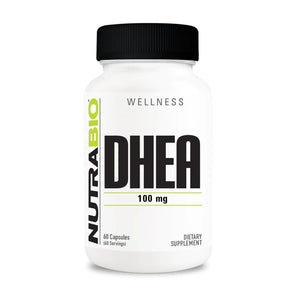 WHY CHOOSE DHEA?
OPTIMIZE HORMONE LEVELS
DHEA plays a role in producing many essential hormones in the body, such as testosterone and estrogen. When levels of these hormones are not balanced, you may find your mood changes, body fat levels increase, and a loss in lean muscle mass.
Research has shown that DHEA can help optimize and balance hormone levels, which is why supplementing with DHEA may be precisely what you need to continue achieving your health and fitness goals while also looking and feeling your best.
INCREASE MUSCLE GROWTH & STRENGTH
To see any sort of results from your training in the gym, you need to be able to push yourself harder with each workout. DHEA supports muscle growth and can help improve strength. This combination can help you stay lean, muscular, and youthful as you age.
It's common to see physiques deteriorate over time and with age due to the body's inability to properly manage and produce hormones and aid in recovery. DHEA helps increase physical performance, which can provide you with the edge you need to push your limits in the gym to promote muscle growth and build strength.
SUPPORT ANTI-AGING
There has been a bunch of research over the years showcasing how DHEA can slow the aging process. By properly managing DHEA levels in the body and optimizing key hormones, you can pump the brakes on the aging process. Studies have noted that DHEA can improve cognitive function and body composition — keeping your mentally and physically on point.
DHEA has been found to counteract several effects of aging we experience with each passing year. Many find changes to their skin health and appearance as they age, and DHEA can help slow things down by supporting skin hydration and firmness, as well as helping decrease aging spots so that you may maintain your youthful skin and complexion.
AMPLIFY SEX DRIVE & LIBIDO
Both men and women love the benefits of DHEA when it comes to amplifying sex drive and libido. The first thing that happens when hormones aren't optimized is a drop in libido. You may find you're not in the mood or lack the passion and drive you once had in the bedroom. DHEA can help change that.
Adding DHEA to your regimen helps keep testosterone and estrogen levels optimized. Men, this should be music to your ears as more testosterone production helps maximize your sex drive and keep things down there working properly. And ladies, we can't forget about you. Research has found that DHEA can help prevent dryness while heightening your own sex drive and libido.
ENHANCE MOOD & WELL-BEING
When DHEA levels in the body decline, you may experience a change in your mood and overall well-being. This is, unfortunately, common as you age, but that doesn't mean you need to live the rest of your life feeling that way. By taking an active role in your health and wellness, you can prevent or reverse those effects by adding DHEA to your daily supplement regimen.
DHEA has been shown through extensive research to be able to help heighten your mood and spirits by simply increasing your DHEA levels. If you're not feeling like yourself lately, it may be due to a decreased natural production of this crucial hormone. Therefore, supplementing with DHEA may be precisely what you need to start feeling like yourself again.